We must do out best and fight back!! I mean we can't stay there like Babies and become his servants!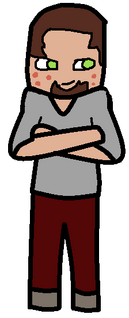 -Antonio replied to his brother, Hector Stephenson
Antonio is a character in Kreepah and Friends: The Birth of the Dragon and the main protagonist of the Justicraft Series. Like his brother, He is the friend of Ezekiel, Kreepah, Onyx, the owner of Iggy the Horse and the mentioned, Poofey. He is the brother of Hector Stephenson.
About
Antonio Jacob Stephesnon was born on July 4th, 1978 in America. He is the younger brother of  Hector Stephenson and the both of them are like best friends as well. They have a lot in common. He is a hero of justice and a kind person. He will never give up and is always helpful and filled with perseverence. Antonio is the nemesis of The Leether Dragon and Hector Goldstache. Antonio is a friend to Creepers, Farm animals and People. He is afraid of Ghasts. He is also the friend of Bigfoot like Hector. He is also the friend or Carl, Velma and Gumba.
Gallery
Ad blocker interference detected!
Wikia is a free-to-use site that makes money from advertising. We have a modified experience for viewers using ad blockers

Wikia is not accessible if you've made further modifications. Remove the custom ad blocker rule(s) and the page will load as expected.