These are boss mobs found within Minecraft. They have high health an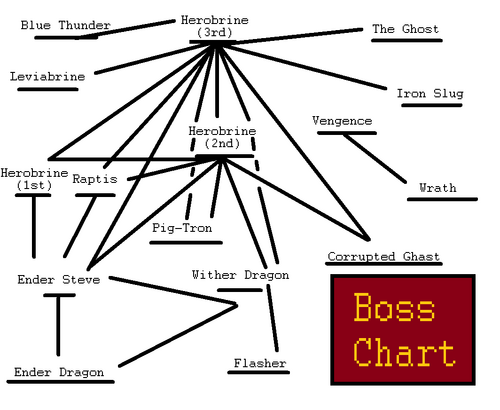 d usually only one spawns in each area it hails from, as well as a complex attack pattern.
What Needs What
Certain bosses are required to fight others that are harder to defeat (the only boss that breaks this rule is Blue Thunder). The Boss Chart (right) may help, but it can get confusing with all the lines, right?
LORD GIBS
LORD SHEKELS
Ender Dragon: Stand-Alone boss (does not need other bosses to fight)
Ender Steve: Requires Ender Dragon
Flasher: Stand-Alone boss
Wither Dragon: Requires Ender Dragon and Ender Steve
Pig-Tron: Stand-Alone boss
Raptis: Requires Ender Steve
Wrath: Stand-Alone boss
Vengence: Requires Wrath
Keeper of Rejinia: Requires all redblock bosses (Excluding Paradox/Demon Bosses)
Corrupted Ghast: Stand-Alone Boss
Craftzalcoatl: boss honored as a god by the bloody Craftztecs.
Iron Slug: Stand-Alone Boss
Leviabrine: Requires Vengence
Herobrine (1st): Requires Ender Steve and Ender Dragon
Herobrine (2nd): Requires Corrupted Ghast, Flasher, Wither Dragon, Ender Steve, Ender Dragon, and Herobrine (1st)
Herobrine (3rd): Requires all bosses except Vengence and Wrath
Blue Thunder: Requires Herobrine (3rd); it is a rule-breaker because of weakness
Subcategories
This category has the following 9 subcategories, out of 9 total.
Pages in category "Bosses"
The following 166 pages are in this category, out of 166 total.
A

B

C

D

E

F

G

H

I

J

K

L

M

N

O

P

P cont.

Q

R

S

T

U

V

W

X

Z
Ad blocker interference detected!
Wikia is a free-to-use site that makes money from advertising. We have a modified experience for viewers using ad blockers

Wikia is not accessible if you've made further modifications. Remove the custom ad blocker rule(s) and the page will load as expected.