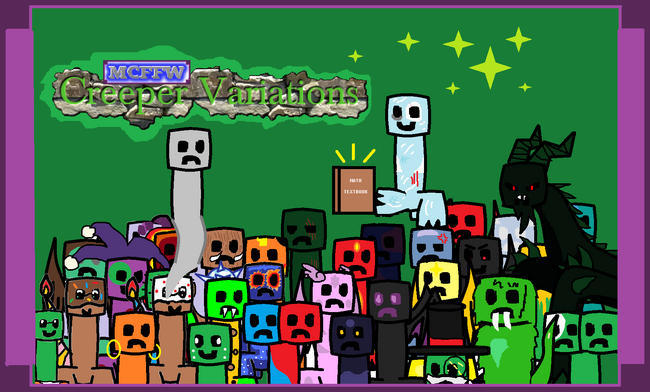 This is a very large category!
To see more of it, click the links below for specific letters, or click the "Next" (or "Prev") links.
Also note that subcategories are sorted alongside articles, so not all subcategories are visible on the first page.
* - A - B - C - D - E - F - G - H - I - J - K - L - M - N - O - P - Q - R - S - T - U - V - W - X - Y - Z
0-9 - a - b - c - d - e - f - g - h - i - j - k - l - m - n - o - p - q - r - s - t - u - v - w - x - y - z - ~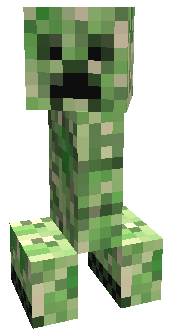 A Creeper is a 2-block tall, stubby-legged, green-colored quadruped widely known to many people around the world - even those who don't know what Minecraft is may recognize their empty-eyed frown, a common symbol for Minecraft. What distinguishes them from other Minecraft monsters is their capabilities of spontaneous explosion, which will be triggered if you get too close to them. They, along with Ghasts of the hellish Nether, drop gunpowder upon death, though Creepers are a better source for such an item as they are much easier to kill.
This category contains fake variations of the original Creeper, coming in many different shapes, sizes, and characteristics.
Subcategories
This category has the following 10 subcategories, out of 10 total.
Pages in category "Creeper Variations"
The following 200 pages are in this category, out of 211 total.
A

B

C

D

E

F

G

H

I

J

K

L

M

N

O

P

P cont.

R

S

T

U

V

W
Media in category "Creeper Variations"
This category contains only the following file.
Ad blocker interference detected!
Wikia is a free-to-use site that makes money from advertising. We have a modified experience for viewers using ad blockers

Wikia is not accessible if you've made further modifications. Remove the custom ad blocker rule(s) and the page will load as expected.