Note: This doesn't exists, it's just fiction
Creepa Knight
or 
Claude King 
is a Creeper Knight, one of
Kreepah
's friend and a protagonist of certain 
Kreepah and Friends series
 comics. He is one of Kreepah's best friend.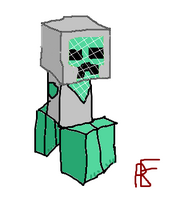 Appearance
About
He is a Blue Belt in Karate. He has many friends like Kreepah and is very Curious. He is skillfull, a lifesavor and a creeper of justice. He has Integrity and Perciverence. His parents are dead because of cats (exept for his brother, he was killed by Israphel).
History
Claude King was born on Planet Kreepton in West America. It is unknown when he was born. Since he was 10 years old, his older brother, Koopa use to train him. When it was Grade-in and he was in Blue Belt, Israphel killed his brother. Creepa was almost a warrior that time.
Death and Revival
Death
When Ender Creepers blew him away, Israphel tear him in half and killed him.
When he was going to blow away Herobrine, Herobrine Stabbed him in his chest.
Revival
After the death of Israphel, everything became normal, that means he was fitted back together and lived.
Trivia
He is a brave warrior, exept for cats.
Creepa Knight sometimes sacrifice himself to save his friends.
Ad blocker interference detected!
Wikia is a free-to-use site that makes money from advertising. We have a modified experience for viewers using ad blockers

Wikia is not accessible if you've made further modifications. Remove the custom ad blocker rule(s) and the page will load as expected.