Note: This doesn't exists, it's just fiction
Excreepinater or Creepinator is refering to Exterminator and Creeper. He is the Main Antagonist throughout the 
Kreepah and Friends series
 and
The Creepy and the Generous
. Creepinator is a Semi-Cyborg Creeper who is a killer like his creators,
Israphel
and
Herobrine
.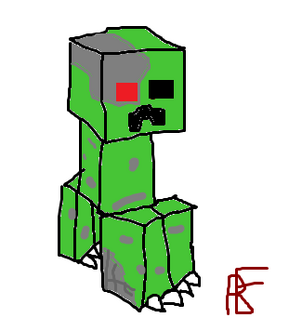 Appearance
Origional Creeper Texture
Scratches
Green
About
Creepinator is a Heartless and Selfish, Thick, Iron Robot that hunts for the people his masters sent to destroy. He can fly and swim. His weakness is Lightning. He can create anything out of his hands. He has perciverance, skills and Powers. 
History
He was first Iron Golem but harder. When Herobrine killed him he brought the bodyparts to Israphel to create a Cyborg. It took them 2 hours to build him. He then invaded Earth and killed Steve's brothers. Then he went to mars for Iron to customise himself then tried to destroy the Creeper friends. Many Years later (after the birth of Wild Creeper), he revived and started creating his four Android Creepers to destroy planet Kreepeart and then rule the Planet and then probably the Universe.
Death and Revival
Death
Revival
Trivia
He is based on Arnold Schwarzenegger as the Terminator.
The only character that can defeat him is Creepa Knight
Ad blocker interference detected!
Wikia is a free-to-use site that makes money from advertising. We have a modified experience for viewers using ad blockers

Wikia is not accessible if you've made further modifications. Remove the custom ad blocker rule(s) and the page will load as expected.