Note that this does not exist in Minecraft; it was written purely as a fiction article.
"Graceful Creeper"
is the name often used describing this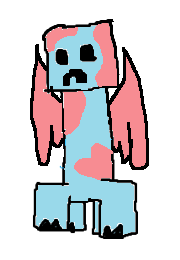 legendary myth. Real name being 'Grace', her abilities are limited, unlike other mythical mobs.
Myths and Legends
Her true identification is unknown, as where she is refferenced, her descriptions vary strongly and show very little similarities. Grace can fly faster than the speed of sound and is about three times bigger than an average creeper. Her blue and pink skin gives her away to people who are looking for her.
Ad blocker interference detected!
Wikia is a free-to-use site that makes money from advertising. We have a modified experience for viewers using ad blockers

Wikia is not accessible if you've made further modifications. Remove the custom ad blocker rule(s) and the page will load as expected.