Don't be confused with 
Hector Goldstache
.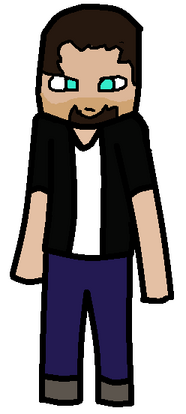 That was a rough ride. Kreepah, I miss him and my Dog Poofey. Goldstache had gone too far and he is tryinh to kill us, but we can't allow that, that'll say we are cowards!!
- Hector's first words in Justicraft. Him telling his brother that Hector Golbeach had gone too far.
Hector (Aka; Hack) is a character in Kreepah and Friends: The Birth of the Dragon and the main protagonist of The Justicraft Series. He is the friend of Ezekiel, Kreepah, Onyx, the owner of Iggy the Horse and the mentioned, Poofey, and the brother of Antonio Stephenson.
About
Hector Alfonzo Stephenson was born on October 16th, 1974 in America. He is the brother of Antonio Stephenson and the both of them is like best friends as well. He is a hero of justice and a kind person. He will never give up and is very Vengeful when something happens bad to either his friends, pets or brother. Hector is the nemesis of The Leether Dragon and Hector Goldstache. He is afraid of Spiders and friends of Creepers. He is feared by Witches. He is also the friend of Bigfoot. When he became drunk and tried to gain breast milk from Goldstache's Gold Dragon, he killed it. He is also the friend or Carl, Velma and Gumba
Gallery
Ad blocker interference detected!
Wikia is a free-to-use site that makes money from advertising. We have a modified experience for viewers using ad blockers

Wikia is not accessible if you've made further modifications. Remove the custom ad blocker rule(s) and the page will load as expected.