This doesn't exist in Minecraft; it's just fiction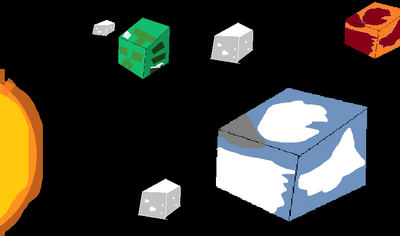 Inckia (Ink-ia)is the third planet in the Creepy Zone. This is the largest planet in the Creepy Zone. This planet is cold, Icy and Snowy. There are Generated Structures there, Mobs and Inckians there.
Weather
The weather there are is only Sunny, Thunderstorm and Snowy.
Generated Structures
It is like a village but they are Igloos made out of Snow Blocks. There are Pyramids and Bridges made out of Ice to slide on. There are Bridges, Pyramids, Igloos, Farmlands and Daylight Sensors there. 
Igloos
These are where Inckians live and carry out their tasks. There are Chests, Crafting Tables, Furnaces and water. 
Pyramids
These are similar to the Desert Temples but is made out of ice and at the bottom there are treasures in chests.
Farmlands
This is like the one in the Overworld
Bridges
They are just there for walking and Roaming.
Mobs
Pigs
Sheep
Cattles
Squids
Trivia
Like how Water cannot spawn in the Nether, Lava cannot spawn in Inckia.
Ad blocker interference detected!
Wikia is a free-to-use site that makes money from advertising. We have a modified experience for viewers using ad blockers

Wikia is not accessible if you've made further modifications. Remove the custom ad blocker rule(s) and the page will load as expected.