his doesn't exist in Minecraft; it's just fiction
Khuton (KOO-TON) 
is the second planet in the Creepy Zone. This planet is similar to the Nether and Venus but instead, replaces the Nether Fortress with Khuton Villages. The orange part of it is lava and the Maroon part of it is land which are Netherracks. However, there are waters, mountains, ores, food and obsidians in planet Khuton.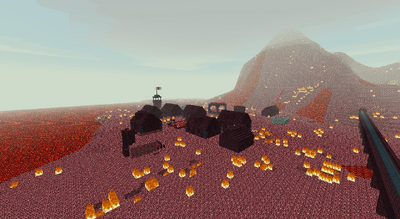 Generated Structures
They are generated on Khuton and build by Khutonese for years. The Khutonese used Nether Bricks to build their Village and bathed in Water. They Have fire resistance and haves tools and Weapons. They Build Big Houses, Stores, Farms, Wells, Bridges and Turrents. 
House
The house is where they lived and kept their treasures. They have Large Chests, Crafting Tables, Furnaces and Beds.
Stores
They are where Khutons sell (trade) their Food or Items. There are Furnaces, Chests, Bookshelves and Crafting Tables.
Farms
They are similar to the one in the overworld.
Wells
Are where Khutonese get water.
Bridges
They are just created for quick transportation since there are Rails and Minecarts there and there is an Abondoned Mineshaft there.
Turrents
Are where Khutonese watch for views.
Mobs
Passive
Neutral
Hostile
Zombie Pigman

Blaze

Magma Cube

Wither Skeleton
Utility
Ad blocker interference detected!
Wikia is a free-to-use site that makes money from advertising. We have a modified experience for viewers using ad blockers

Wikia is not accessible if you've made further modifications. Remove the custom ad blocker rule(s) and the page will load as expected.