This article refers to a modification to minecraft. Mostly reffered to as a mod for the PC version.
About
The minefiction mod will be based off of this wiki. Though it may not include everybodys creations, it will include alot of peoples. To get a better chance of getting into the mod, you must:
Speak in proper grammar
Have no conflicts in history of wiki
Being a REGISTERED user
Being active
Not making your creations overpowered
Current features
Emerald Mob (Hunters reference)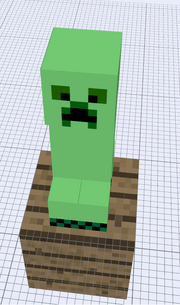 Coming soon:
Moongardens (No pics yet!)
Blackdown (possible)
Afterworld (Likely)
Diamond Golem (A much less overpowered version)
Suggest ideas in the comments!
Download
None yet
Ad blocker interference detected!
Wikia is a free-to-use site that makes money from advertising. We have a modified experience for viewers using ad blockers

Wikia is not accessible if you've made further modifications. Remove the custom ad blocker rule(s) and the page will load as expected.