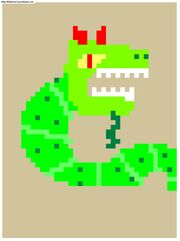 This is just fan fiction, it's not in Minecraft.
The sea serpent is an optional boss who must be fought to reach Minelantis .
The Conch
In order to fight the Sea Serpent, you first must obtain the "magic conch". It is a shell that summons the serpent. To get this, make a 3x3 1-block deep hole (it has to be in the sand within 5 blocks of the ocean) and put a block of gravel in the middle. Put 1 block of sand on top of this and fill the hole with water. Use bone meal on the top sand block and the conch will pop out! 
The Fight
This is a cutscene boss. The first cutscene plays when you right-click the conch.
Player: Hmm, what's this? (Blows into it, it plays eerie music, but nothing else happens.) Player: Huh. I guess... Sea Serpent: (shriek from nowhere, then it crashes up onto the beach, sending the player into the water.)
Ad blocker interference detected!
Wikia is a free-to-use site that makes money from advertising. We have a modified experience for viewers using ad blockers

Wikia is not accessible if you've made further modifications. Remove the custom ad blocker rule(s) and the page will load as expected.