Note that this does not exist in Minecraft; it was written purely as a fiction article.
Sky Creepers
are a unique variation of their green-coloured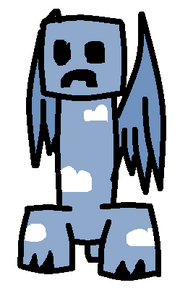 cousins. Like other winged mobs, they can fly high in the air and are passive towards miners.
Behavior
Sky Creepers have cloud-patterns on their skin to help blend in to their surroundings. They ignore miners but will try to gain altitude when being chased. They soometimes land when there are no other miners nearby but otherwise avoid them. They do not cross paths with Flying Creepers.
Habitat
Sky Creepers are always found in the sky, usually flying low to the ground near seas as if they were fishing. They are hard to see because of their sky pattern.
Ad blocker interference detected!
Wikia is a free-to-use site that makes money from advertising. We have a modified experience for viewers using ad blockers

Wikia is not accessible if you've made further modifications. Remove the custom ad blocker rule(s) and the page will load as expected.