About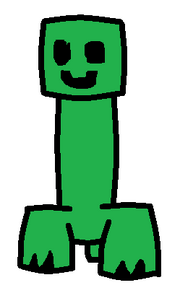 Smiling creepers are creepers that smile. Unlike most creepers, these creepers are passive. Just like a normal creeper, they have 20 health. Sometimes, one can be seen with a Smiling Creeper following them, which means the creeper wishes to be tamed. To tame a Smiling Creeper, you need 3 gunpowder, 5 stone, and 1 apple. This will make a
Smiling Creeper Apple
. Once you give it to the creeper, he is now your friend! Smiling Creepers are only for show. Players can craft items for their friend to show them off at a server pet show!
Ad blocker interference detected!
Wikia is a free-to-use site that makes money from advertising. We have a modified experience for viewers using ad blockers

Wikia is not accessible if you've made further modifications. Remove the custom ad blocker rule(s) and the page will load as expected.