Tiny Creepers
are, well, tiny!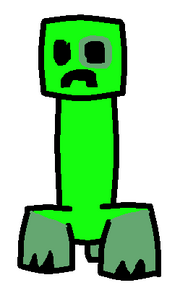 Their very small size makes it hard to see them. They are 10x smaller than a regular creeper and are otherwise considered harmless to players. They do not self-destruct.
Tactics
Tiny Creepers will push and prod anything that is in a 16-block radius but cannot deal any damage. However, they can get annoying because of their very high spawn rate (86% chance of spawn every 2 x 2 block radius) in grassy plains. However, they are a good method of achieving lots of XP orbs (2 per kill).
Habitat
Tiny Creepers inhabit Plains, Swamp, and Extreme Hills biomes and occasionaly Mountain biomes (49% chance of spawn every 5 x 5 block radius).
Ad blocker interference detected!
Wikia is a free-to-use site that makes money from advertising. We have a modified experience for viewers using ad blockers

Wikia is not accessible if you've made further modifications. Remove the custom ad blocker rule(s) and the page will load as expected.